Anti-Oppression / Mass Incarceration workshops – Fall 2021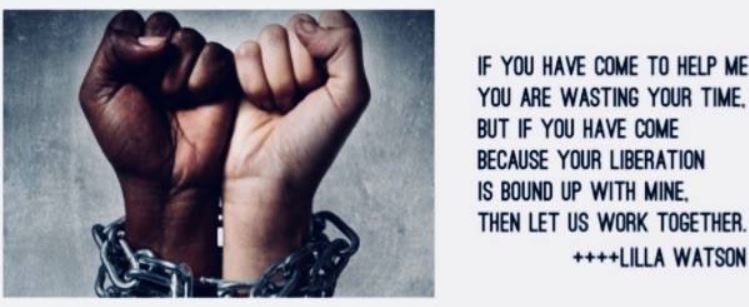 We have paused our workshops for the summer, and plan to resume in Fall 2021. Please sign up here to be added to the interest list. We will reach out once we have scheduled workshop dates.
We appreciate everyone's patience while we prepare for the next community workshop. Look for an invitation soon to the October, 2021 workshop as soon as a date has been confirmed. (There is no workshop on October 1, our software just requires us to enter a date.)
Thanks so much!
How We See People: Offered on Saturdays, 10:00 am – 3:00 pm
How do we see people? What's the impact on others? What lenses do we see through and where do these lenses come from? How are *we* seen?Whether we are overvalued or undervalued by society, the ways that we are seen are influenced by multiple systems, histories, experiences and institutions. This workshop seeks to explain the systems and institutions that shape the ways we see ourselves and others so that we can be more accountable for the impacts: internalized racial superiority, internalized racial inferiority, prejudice, fear and discrimination towards folks with conviction histories. Through practice, experience and discussion, we will develop a basic anti-oppression framework, especially useful for people who want to work in prison, work with people in reentry, or who work in nonprofits. We will also discuss the roots of racism and mass incarceration and how they intersect with other forms of oppression, especially anti-Blackness.

Freedom Project works to dismantle the institution of mass incarceration and heal its traumatic effects on our community. We've been supporting programs in Nonviolent Communication and mindfulness inside Washington State prisons and in reentry for over 20 years. We believe that a successful social movement needs collaboration between folks working to break down oppressive systems from the inside and the outside. This workshop is part of the work we do to understand why people are incarcerated; examine our implicit biases about race, gender, power and violence; and practice making empowered choices about how we see people.

This workshop will be held online via Zoom with frequent breaks throughout the day. Self-attendance matters, so let us know of any accessibility needs you have to support your participation. This workshop is interactive and relational, not a one-way presentation.

TIMES: 10:00 AM – 3:00 PM  **Because this workshop is relational, the ending times are approximate.**

This is an all-ages event. This workshop is offered free of charge.
How We Show Up: Anti-Oppression Deep Dive: Offered on Saturdays, 10:00 am – 3:00 pm
PREREQUISITE: "How We See People: Anti-Oppression / Mass Incarceration Workshop"  Polishing our racial equity lens in ongoing work. The more we do the work, the more we build the strength, resilience and capacity to keep examining our biases, deepening our awareness, and showing up in ways that reduce harm and increase connection. Whether we are overvalued or undervalued by the systems around us, we've all got work to do to as we take our awareness of our social identities into our work and life.

"How We Show Up" is an ongoing series of community-building workshops that support us in seeing how we might impact or be impacted by others. We will rotate through different topics that help us identify racial equity and anti-oppression values as they show up in our daily life. Some of the key components we will cover include:

A deeper dive into the practice of the anti-oppression skills that we learned in "How We See People".
The importance of understanding the difference between our intentions and our impact.
The many-layered nuances of how to give and receive feedback when impact happens.
Unpacking what it means to be an ally.
Understanding the value of creating spaces outside of the gaze of white dominant culture.

Each session will include a chance for folks to process what they are learning and what's coming up in groups according to social identities like race or whether or not you have ever been incarcerated.

TIME: 10:00 AM to 3: 00 PM. **Because this workshop is relational, the ending time is approximate.**

This is an all-ages event. This workshop is offered free of charge.